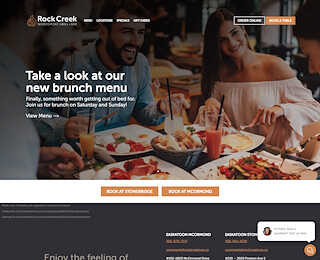 Rock Creek Tap and Grill rules as the leading taphouse in Saskatoon because of its delectable menu and multiple convenient locations. With an upscale environment and a relaxed, classy ambiance, it is easy to see why our Canadian taphouse is a favorite in the local area.
The rustic cabin décor creates a downhome vibe that makes Rock Creek Tap and Grill feel festive and comfortable. A combination of our fresh ingredients and a broad menu selection set our tap-house restaurant in Saskatoon shine like a diamond.
Customers immediately fall into a relaxed state of mind upon entering the bright and vibrantly decorated entrance or Rock Creek Tap and Grill. The atmosphere within the central dining emits fellowship and unity feelings that match nicely with the room's architectural design. The friendliness radiating from the staff develops an aura of tranquility and camaraderie that keeps you returning for more.
Why Rock Creek Tap and Grill Stands as the Best Taphouse Near Saskatoon
Rock Creek Tap and Grill offers twenty-ounce pints of draught beers like Pilsner and Bud Light. Besides an extensive selection of draught beers, our restaurant provides domestic canned beer from top favorites like Prohibition and Kokanee.
An elite section of imported beer brands available at Rock Creek includes Corona, Heineken, and Michelob Ultra. The pricing chart of our taphouse varies, depending on your beer of choice. Local craft beers also call Rock Creek Tap and Grill home that offer intense flavors that delight the senses.
One of the most popular local craft beers available at our establishment is Rebellion Lentil. Rebellion Lentil produces a full-bodied sensation that tantalizes the taste buds. Rebellion Amber is another popular craft beer we offer that has a crisp taste. Other draught beer options at our Saskatoon taphouse include premium Stella, Granville Island, and 9 Mile Rafiki with varying prices and flavors.
Explore Local Culture While Testing New Drinks
At Rock Creek Tap and Grill, we embrace our local culture in our food menu and our decoration choices. The main bar offers comfortable seating with plenty of space to enjoy spending time with friends or loved ones.
In addition to red and white wine selections, we also offer an inventory of ciders and coolers. Diners can purchase wine in six or eight-ounce glasses from classic names like Oyster Bay and Barefoot.
We also provide an expansive menu of wood smoke cocktails and martinis that come brimming with flavor. The majority of our cocktail options come in twenty-ounce sizes with varying garnishes and seasonal side trimmings. Our bartenders also have experience creating old fashioned cocktails, such as the Tennessee Mule or SoHo Sunrise.
Place an Order Right Now for Food and Drinks
If you are ready to place an order for food, bottled wine, or any other options offered by our restaurant, please click here to get started. Diners rave about our succulent prime rib sandwiches and thick cuts of premium steak. At Rock Creek Tap and Grill, we take the best aspects of Canadian and present them in a dazzling manner that makes us irresistible.
Taphouse Saskatoon
Rock Creek Woodsmoke Grill + Bar
+1 306-954-4220
3020 Preston Avenue South #210
Saskatoon
SK
S7T 0V2
View Larger Map
We welcome your comments!