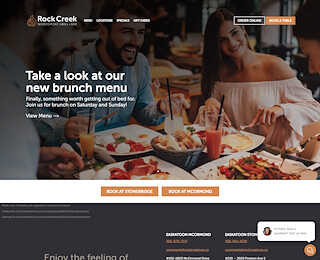 The hallmark of an excellent restaurant is usually good food, great service, and a lovely ambiance. At Rock Creek Tap and Grill, we offer you all three and a lot more, making ours one of the top-rated eateries in Saskatoon. In all aspects, our restaurant embodies Saskatoon's spirit, which was named the hottest food destination by Forbes in 2019. Our restaurant has a warm and cozy feel and offers that fine dining experience. What's more, our exciting twist to authentic Canadian dishes and the upscale dining experience our restaurant offers is what makes us the best restaurant in Saskatoon.
5 Reasons We Are the Best Restaurant in Saskatoon
Sometimes, all you want is to eat, but we value more than that at our restaurant. We care about service delivery and providing the best in class experience. Here are other reasons why we are a top-rated Saskatoon restaurant.
Our Cuisine is Stellar
Not only is our menu very extensive, but the culinary skills of our chief chefs are unsurpassed. Our meals are beautifully plated, tasty, and burst with flavor. And we just don't just present Canadian dishes; we reimagine and recreate them to give our meals a smokey twist, one of the things that rate us among the best Saskatoon restaurants. Popular items on our menu include smoked prime ribs, chicken satay salad, seafood marinara pasta, calamari, chicken wings, seafood chowder, pepperoni pizza, steak and fries, banana burrito, and tailgate nachos. We also have a variety of tasty vegan options and a gluten-free menu, which makes us one of the best places to eat in Saskatoon.
We Offer A Variety of Dining Options
When it comes to dining, we have quite a variety of options. You can dine in. There's plenty of seating space, including an outdoor patio complete with shades. Walk-ins are accepted, and you can also make a reservation beforehand. Alternatively, you can opt for delivery. We also offer curbside pickup services. Our restaurant can comfortably cater to large groups and is one of the restaurants that offers family dining in Saskatoon.
Our Service Is Amazing
The kind of service we provide at Rock Creek Tap and Grill is second to none. Our staff is welcoming, friendly, and professional. Rest assured, our service is quick, so you'll never have to wait for what seems like hours to get your order. We have some of the most creative, delicious cocktails you'll find in the city. Our lounge is easily the best tavern in Saskatoon and lots of people stop by for after-work drinks or to enjoy our cocktail adventure.
We Give You Value for Your Money
Our restaurant is reasonably priced. More importantly, our portions are quite generous. Customer satisfaction means everything to us. We also have gift cards with amazing deals, making us one of the best places to eat in Saskatoon.
We Support Saskatoon's Local Economy
Most of the produce our chefs use is locally sourced. Saskatoon has some of the most fertile lands. In fact, 50 percent of Canada's agricultural products are grown in the province of Saskatchewan. Instead of sourcing produce from outside, we use our local community suppliers.
Enjoy Your Favorite Dishes the Rock Creek Tap and Grill Way
If you are looking to enjoy authentic, utterly delicious Canadian dishes with a hint of smoke or the city's best cocktail experience, visit Rock Creek Tap and Grill or order online now on https://smooth.menu/rock-creek/menu/. We're the best restaurant in Saskatoon.
Best Restaurant in Saskatoon
Rock Creek Woodsmoke Grill + Bar
+1 306-954-4220
3020 Preston Avenue South #210
Saskatoon
SK
S7T 0V2
View Larger Map
We welcome your comments!